Content
Management
Systems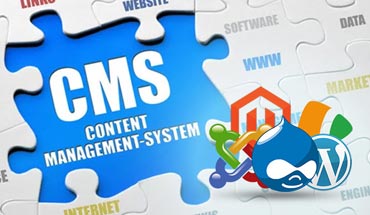 The right content management system is a key piece of the business puzzle
Content plays a major role in the journey of building your online presence and brand. Without it, you're going to struggle in today's ruthless business world. In fact, digital marketing is arguably one of the most important areas of commerce, although it's often neglected.
To maximize your operation's potential, you need a reliable content management system (CMS). You'll find plenty of them out there, and they all allow you to create and manage your own content, website, and blogs. But some are more effective than others - and that's where we can help.
What Is a CMS Used For?
At the most basic level, a CMS lets you upload and manage the content for your website. No matter the size or type of your business, a CMS has become almost indispensable. It operates on the backend of your website, allowing you to manage the content and other facets of your website, including the visual layout.
Another benefit of a CMS is that it makes it easy for users with varying levels of tech savviness. If your tech literacy is low, CMS systems have a variety of premade themes and plug-ins that have already been developed (think phone apps but for your website) and allow you to add tools, like search or appointment calendars, to your website.
If you know how to code, or employ software developers, most CMS software is open source and can be customized to your liking.
Businesses of all types can benefit from using a CMS for their website. Here are some examples of how a CMS can enhance the websites for a variety of different business types:
Restaurants: CMS software makes it easy for restaurants to add and update their menus, create coupons and offers, and allow customers to make reservations online. There are many premade plug-ins that specifically target restaurant websites.

eCommerce: A CMS can benefit your online store by allowing you to quickly add and remove products, track sales, and manage other aspects of your business. Plug-ins are available to add a shopping cart to your site. A brick-and-mortar store can easily add a shopping cart using a CMS.

Small Businesses: No matter what type of business you operate, a website is a necessity in today's business world. A CMS allows you to manage the content yourself and update information quickly. Most CMS applications include SEO plug-ins to help you optimize your website's content. You can also find templates and themes to quickly create an attractive website without having to hire a designer.

Nonprofits: A CMS allows nonprofits to easily manage their websites for not a lot of money, plus you can accept donations online by adding plug-ins. Many open-source CMS applications have robust communities of developers that can help nonprofits create the best websites. Add-ons and plug-ins are also available to help nonprofits manage their social media and marketing presence.