How
to
Monetize
Your
Website
Making money from your website isn't a myth. It's doable by anyone.
In fact – turning a part-time, hobby blog into an income-generating asset is fairly common with a bit of luck and some hard work.
At the very least, you should be able to make enough to cover your basic expenses for a domain and hosting. You might even be able to replace your income (and then earn some more).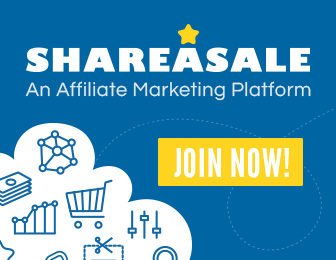 shareasale.com find sales leads for you. Only pay when it works!
Keep in mind that the strategies listed below range from easy and passive, to the ones which require a TON of on-going work (so make sure you pick something that suits your site and lifestyle preferences).
Before you start trying to earn money on your website or blog, you need to start driving traffic and potential customers to your site. Without people viewing your site, you won't have much of a shot at making money since no one will be aware of your content. The efficacy of many of these monetization strategies depends on the amount and type of traffic your website receives.
One of best tools to monitor and analyze your traffic is Google Analytics. This is the industry standard for quantifying and analyzing your web traffic. Google Analytics provides statistics like how much time visitors spend on each page of the site, how many page views you get in total, and any keywords that were entered into search engines in order to reach your page. This information is incredibly valuable when it comes to creating content for your target audience as well as for selecting which ways you will monetize your site.
1. Affiliate Marketing (.. and affiliate links)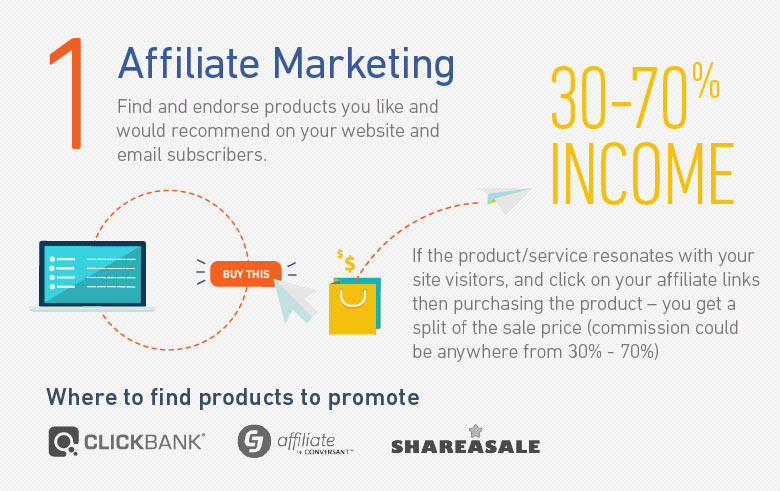 Examples of a successful affiliate site: Booking.com
Affiliate marketing is one of the most popular (not to mention quickest) ways to make money from your website or blog.
Start by finding a product you like and would recommend. Then on your website, you endorse the product and promote it to your website visitors and email subscribers. If the product or service resonates with these people, they'll click on your affiliate link, purchasing the product (while you get a split of the sale price).
The commission might be anywhere from 30% of the product or service price, up to as high as 70%. For example, if the split is 50% and you promote an e-book that costs $100, you'll get $50 for simply referring the buyer. Pretty sweet deal, huh?!
Where can I find products to promote?
2. Pay Per Click Advertising (Google Adsense)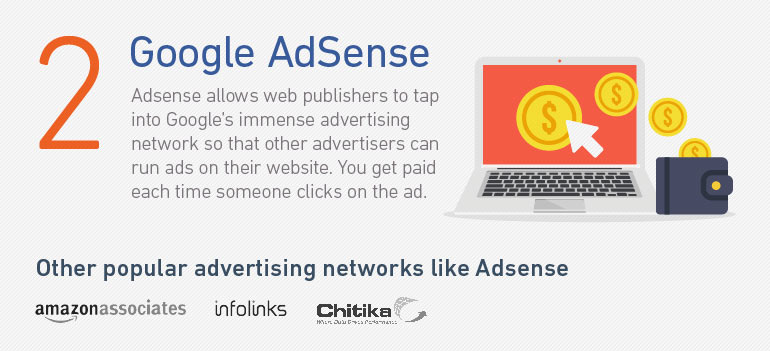 Example of a successful Google Adsense site: Mashable.com
AdWords are the advertisements that show up on the top of Google search result pages.
AdSense is the reverse, allowing publishers (which includes bloggers and other website owners like yourself) to tap into Google's immense advertising network so that other advertisers can run ads on their website.
The best part about this system is how simple everything is.
Once you sign up, Google will place a simple code on your website that will identify the content of your site and start displaying relevant advertisements. For example, if your site is about pets (dogs & cats), Google AdSense will start showing your visitors ads for cat food, dog training and more.
You get paid each time someone clicks on the ad. (Yes, it's really that easy!)
Your cut might be anywhere from $0.50 to $5 per click. When your site has enough traffic, you can make hundreds (if not thousands of dollars) each month.
How to apply for Google Adsense?
3. Sell Ad Space
In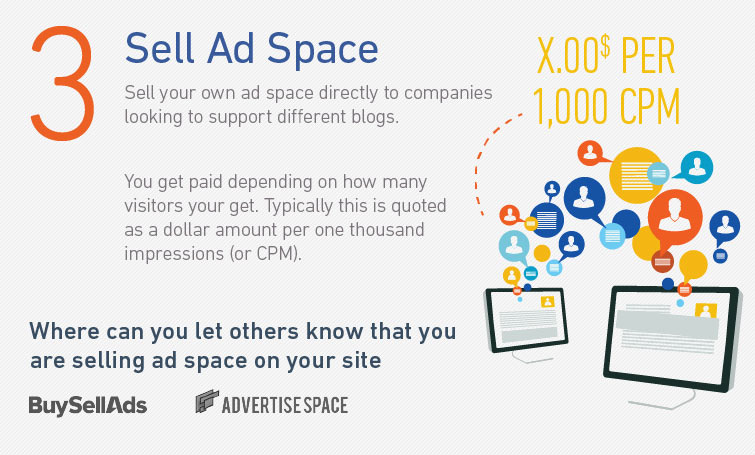 corporating Google's AdSense on your website is just one way to make money from online advertisements.
Another is to simply sell your own ad space directly to companies looking to sponsor different blogs. You can come up with a price for each space, for example: "Sidebar banner ads will cost $xxx per month".
You can get paid depending on how many visitors you get. Typically it's quoted as a dollar amount per one thousand impressions (or CPM). You might see it as: $5 CPM. If the website gets 100,000 visits a month, that ad price translates into $500 bucks.
The good thing about this approach is that if your site gets a ton of traffic from different sources, your simple banner ad pricing can go up to as high as $5000 per month! The obvious downside is that if your site doesn't get a lot of traffic, you can't expect to earn much either.
The other common method when selling ad space directly from your website is a simple direct price. You simply name a price (based on what you think it's worth, relative to what the competition might be charging), and get paid upfront at the beginning of each month. This pricing is also generally a simple flat fee, not tied to a Cost Per Click like AdSense.
Where can I let others know that my website is selling ad space?
4. Sell Your Own Digital Product (Ebook for Example)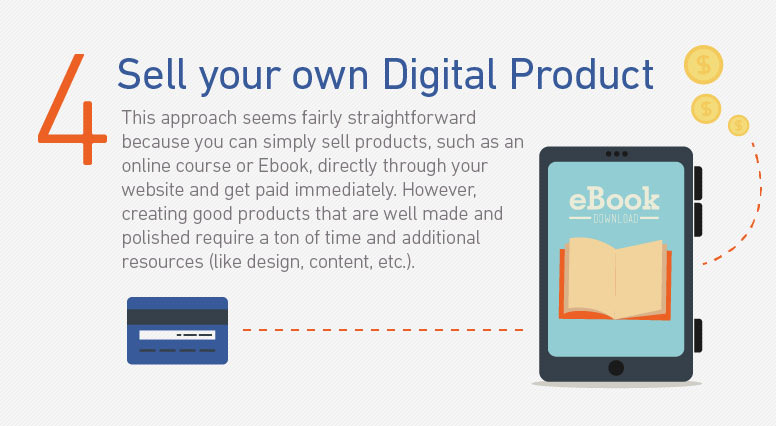 You have the potential to make the most money on a per sale basis when you can sell your own directly.
That's because there's no middle-man or person in between you and the buyer that's taking a 'cut' from the money earned.
This approach seems fairly straightforward because you can simply sell these products directly through your website and get paid immediately. Unfortunately, it's not that simple in reality.
Creating good products that are well made and polished require a ton of time and additional resources (like design, content, etc.). There's a lot of 'hidden costs' in both time spent and the contractors to collaborate with. Selling your own products on your site also brings up problematic issues like payment gateways (how are you going to collect payment?), shipping (how are you going to mail or distribute the products?) and taxes (oh man, don't even get me started with that one!).
If it doesn't sound like enough work already, you'll also need a well designed, persuasive landing page to make sure your product has a strong conversion rate.
Additional resources:
How to sell products on your website.
How to set up a PayPal "Buy Now" button on WordPress
5. Accept Donations from visitors

If you don't have a ton of monthly visits, but you do have a strong, engaged community? Simply ask your readers to donate!
Accepting one-off donations isn't a fast road to wealth, but it can help you cover expenses in the short-term if people like what you have to say and want to support your journey.
For example, PayPal offers little donation buttons that only take about ten minutes to add to your website, offering you a quick way to recoup what you might be spending on a good web hosting, new product creation, research, and all of the other costs to maintain a healthy, active blog.
For example, web.archive.org makes a lot of money from donations (most likely due to their millions of visitors per month).
How to set up donation buttons?
6. Accept sponsored posts & articles (…but use nofollow tag)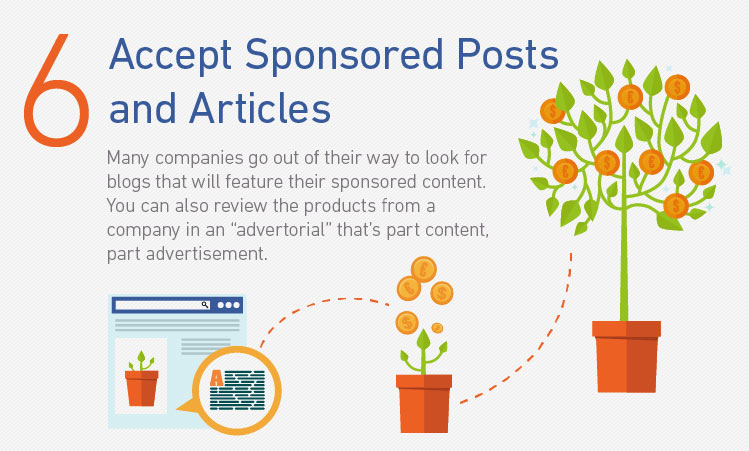 One of the common ways to make more money from your website means getting those visitor numbers UP.
Once you've done the hard work of building steady traffic to your site with an engaged community, there are a few different ways to monetize your hard work.
For example, many companies go out of their way to look for blogs that will feature their sponsored content. 'Native advertising' like this works well because it lines up with your site's primary content and it comes across as relevant and transparent.
You can also review the products from a company in an 'advertorial' that's part content, part advertisement. For example, if your website is all about the latest iOS games for iPhones and iPads, the creator of one of those ads would LOVE to have you review and feature their app to your fans.
When done right, this can create a win/win scenario. However – done poorly, with irrelevant or inauthentic site content, it can erode all of the reader's goodwill you've worked so hard to create in the first place.
For further reading: