David
Hearne's
Official
Site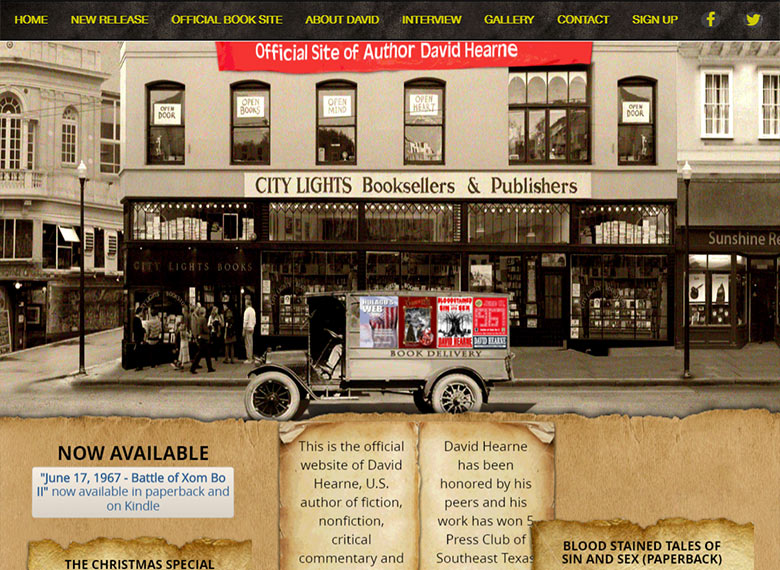 Award-winning author, David J. Hearne, has written a non-fiction book about a deadly Vietnam battle that took the lives of 39 men, two novels, a collection of horror short stories, and a non-fiction book about programming.
His stories have been described as fast-paced thrillers that weave fictional characters into real-life events and examine problems facing contemporary society. Hearne is currently working on an autobiographical book of his experiences in the battle of Xom Bo II during the Vietnam War.
An accomplished author, David has won numerous awards from local, national, and international book competitions and events. His novel The Christmas Special has won awards at the New England Book Festival, Midwest Book Fest, and from book competitions in Florida and California. He also received an international award for The Christmas Special at the British Library in London, England. His book of short horror stories, Bloodstained Tales of Sin and Sex, won awards both from the Press Club of Southeast Texas Excellence in Media Awards and from the 2014 Halloween Book Fest in Hollywood, CA. David's work has received 5 other awards from the Press Club of Southeast Texas Excellence in Media Awards.
David has appeared on over 110 radio and TV shows discussing his books, their meanings and his reasons for writing them. When not writing or promoting his books, David enjoys reading, listening to audio-books, traveling with his wife, and taking on life's new adventures.
As the son of an Army officer, David enjoyed growing up in many different places, along the east coast of the United States. Early on, David developed a love for traveling and learning about different places and diverse cultures.
His life experiences are many; he has served in the Army as an Artillery Officer, ran numerous companies, lived in San Francisco and Berkeley California during the "Age of Aquarius", an age of love, light, and humanity, worked as a software engineer, founded a successful construction company and more.
Now David and his wife own and operate the eclectic bed and breakfast, Book Nook Inn located in the golden triangle of Southeast Texas. Hearne's many experiences helped shape his world views. Having been exposed to so many divergent viewpoints, he discovered a good command of history was a necessity to detect the truth amid all the noise.
His personal history, taught him to draw his own conclusions on social matters, world events, and the voluminous events that occur in our daily lives.