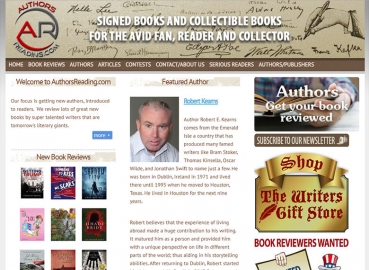 Authors

Reading

AuthorsReading.com is a book review site founded in February of 2009.

Their editorial policy is to review all books and try to bring increased recognition to the thousands of great – and often overlooked – independently published titles released each year.

They strive to give all authors an equal opportunity in promoting their works to the reading public.

They hope to continue being a leader in the introduction of new authors to the reading public.

They want their site to be a fun place for readers to interact with the authors, listen to excerpts narrated by the author and read interviews.

They want to help all authors.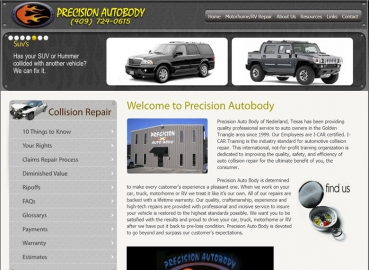 Precision

Auto

Body

Precision Auto Body of Nederland, Texas has been providing quality professional service to auto owners in the Golden Triangle area since 1999.

Our Employees are I-CAR certified. I-CAR Training is the industry standard for automotive collision repair.

This international, not-for-profit training organization is dedicated to improving the quality, safety, and efficiency of auto collision repair for the ultimate benefit of you, the consumer.

Services offered by Precision Auto Body of Nederland, Texas include major and minor collision repair, bumper repair, ding, and scratch repair, paintless dent removal (PDR), headlight restoration, bumper reattachment, rental and lease return repairs.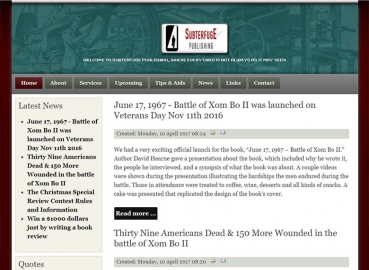 Subterfuge

Publishing

Subterfuge Publishing is an award-winning company that opened its doors and website in 2004.

Subterfuge Publishing decided to only publish a few select books a year that could meet their high standards.

They now publish books by renowned numismatist and author Mike Fuljenz and political novelist, David J. Hearne. Both authors have had their releases well received. Hearne's book, "June 17, 1967," was one of the top-selling books about the men who fought in the Vietnam War and the battles they endured.

Subterfuge Publishing is a proud sponsor of the "PenCraft Awards."
They have been involved in various book shows in Houston, West Texas, Denton Texas and more.

They don't take full-length manuscripts, but they do welcome query emails with a submission title, synopsis, and manuscript except. If Subterfuge Publishing likes what they read, they'll try to respond to your proposal in 10-12 weeks.

Subterfuge Publishing will accept queries for all genres.